March 8, 2013 - Giant, one-time photo opportunity




All images and text Copyright Michael E. Lockwood, all rights reserved.



In a previous installment of "In the Shop", I showed some work on the 50" f/4 cast cellular mirror for Bob Holmes of the Astronomical Research Institute.


With the mirror complete, it was time for some testing of the uncoated mirror in the telescope. Of course, the photographer in me realized that this would probably be a one-time photo opportunity, and I should make the most of it.

So, on a fairly clear day during a fairly miserable stretch of winter in early 2013, I made the hour-long drive and put on some old shoes to head out through the muddy lawn to the observatories.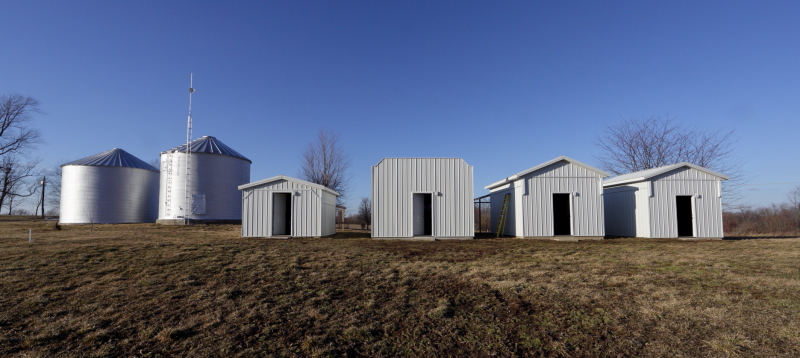 ARI's four observatories are seen here, as is the muddy lawn. The building housing the 50" is second from the left, and you will note that the roof is rolled off. This view is from south of the observatories, looking north.

The round silos at left are just that - silos. I don't think Bob has figured out how to convert them to astronomy use yet.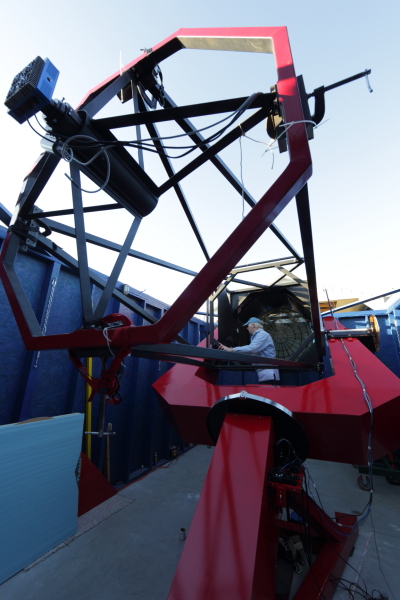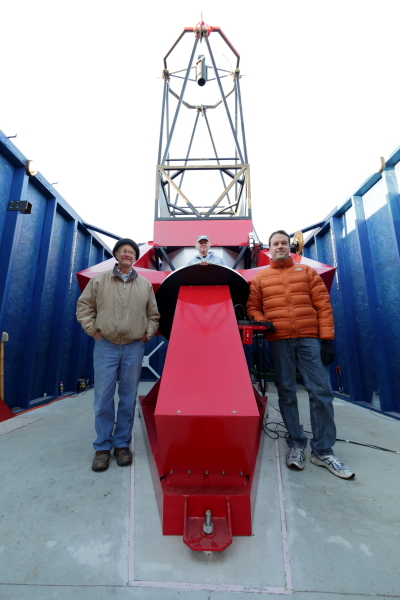 Above left we see Bob opening the doors of the mirror box to expose the primary mirror. Above right, we have (left to right), John Pratte, Bob Holmes, and myself.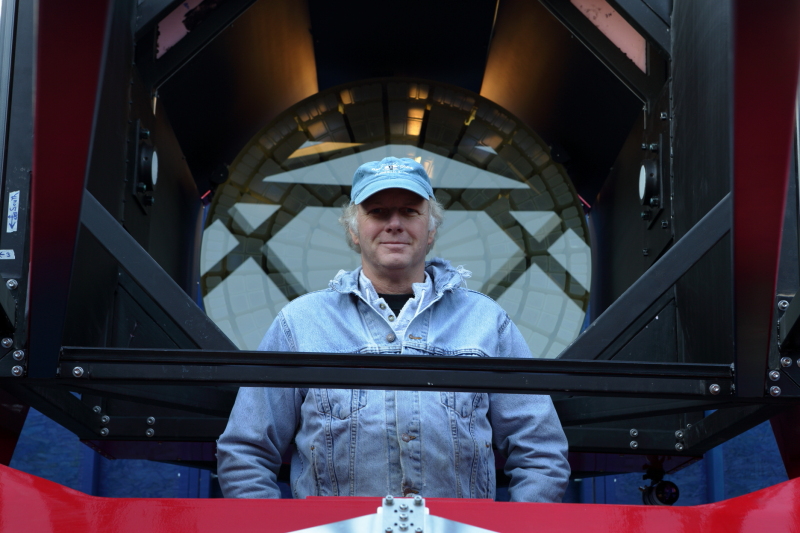 A happy Bob Holmes is seen here with the primary mirror behind him. A light is positioned behind the primary, and would be for later night-time shots as well.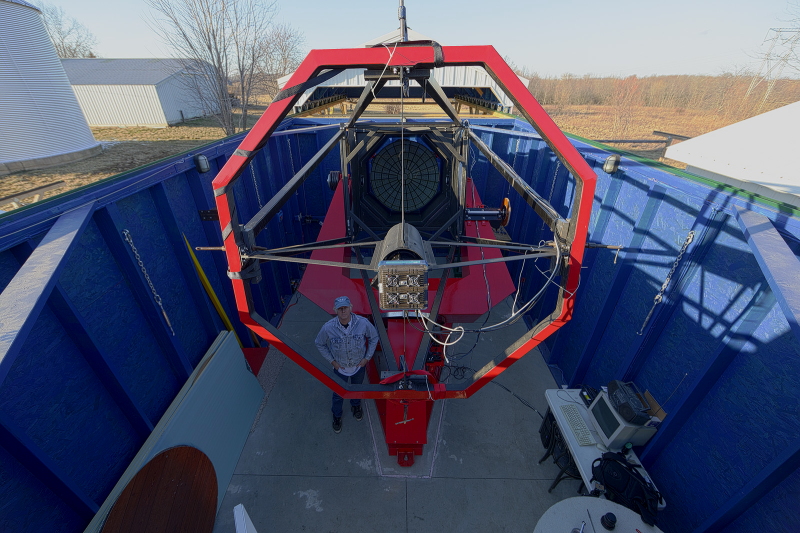 With my camera tripod clamped to the top of a tall ladder, I shot three images at a time and merged them into HDR shots. This allowed the dimmer observatory interior to be seen as well as the relatively bright outdoors. Here Bob poses with his creation for scale, and the cellular structure of the primary is plainly visible. The dark lines are the ribs that give the blank its rigidity.

After dinner, darkness had fallen and it was time for some shots from the ladder with the backlit mirror.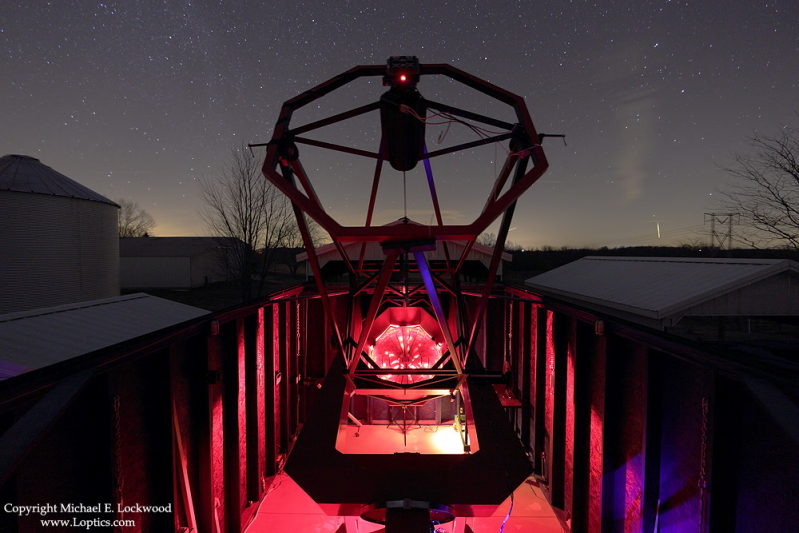 While Bob liked the red backlight best, I preferred the blue, as seen below, because the telescope fork and other parts showed up better. I was also adding some painting to the scene with a flashlight.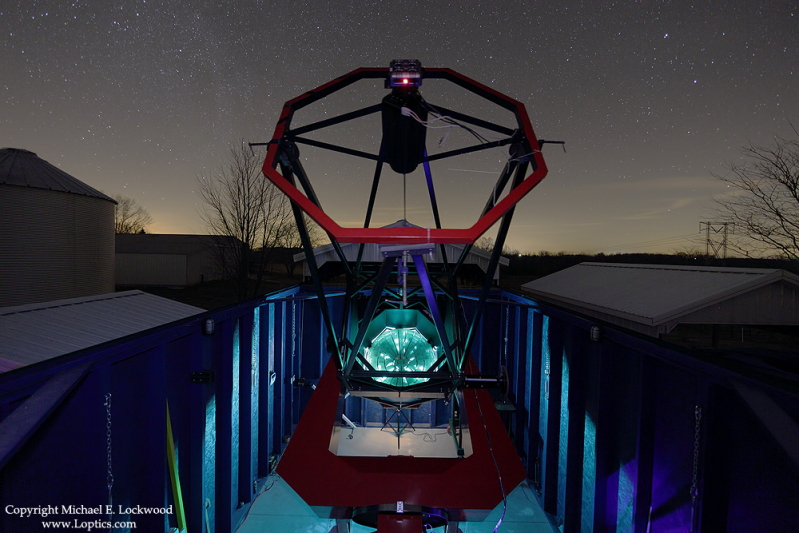 So, the photography was quite successful. The photos came out about as good as I could have hoped, and prints are now hanging on my walls.

Before this night, Bob's testing of the uncoated primary had been very successful.

As I write this, we are still waiting for the 50" to be coated. Hopefully it will be operational before summer rolls in.


Please check back for future installements of

"In the Shop"

.

Mike Lockwood
Lockwood Custom Optics